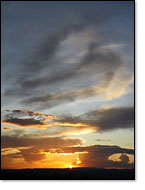 In 1908, a United States Patent was issued by President Theodore Roosevelt on an expansive and exceptionally scenic 16,365 acre tract in Taos County.
The property is situated at the south end of the Taos Valley on the sloping foothills of the Picuris Mountains. The views of the Taos Valley and Rio Grande Gorge are no less than exceptional. January 4, 1913, about one year after New Mexico became a state, W. H. Klauer acquired an interest in the property. By 1920 the family had secured ownership of most of what was ultimately to be a 10,000 acre portion of the original tract. It remains the largest single ownership land holding in the Taos Valley.
In 1996, the Klauer family made the decision to develop a small portion of their land holding and set a goal to create a low impact, high quality living environment. The result was the 284 acre El Mirador subdivision, a development which is now noted as one of the most scenic and well planned developments in the Taos Valley. The success of El Mirador spawned a second development just east. You are invited to view and hopefully become a part of Estancias Atalaya, the best of quality living environments in the region.
Next: Design Concept